Highlights of Our History
In 1812 the Hibernian Society of Savannah was organized by forty-four prominent Savannah gentlemen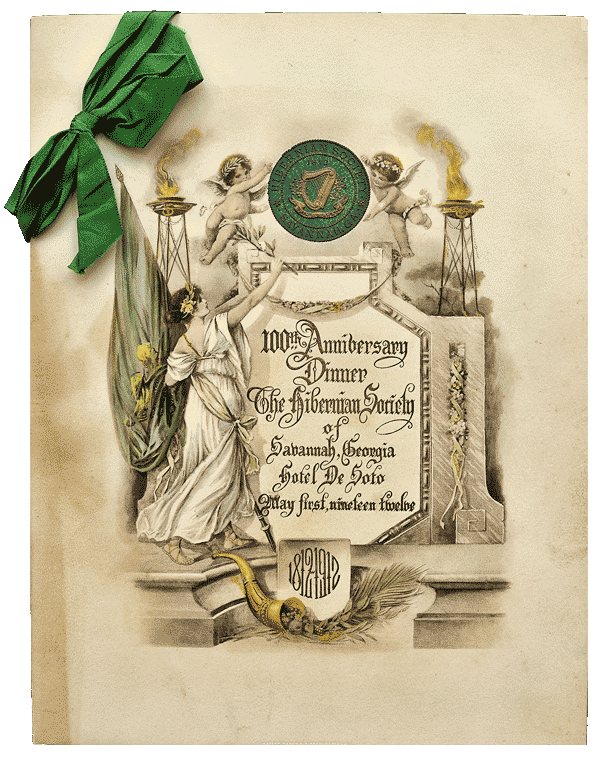 for the purpose of tendering aid to needy Irish immigrants.
In 1813 members of the Hibernian Society marched from near Colonial Cemetery over to Independent Presbyterian Church for a private St. Patrick's Day celebration .
In 1824 James Hunter, President of the Hibernian Society, invited all local Irishmen to attend mass and then join in a parade through the streets of Savannah in honor of St. Patrick's Day. This was the birth of the St. Patrick's Day Parade in Savannah.
Dr. James A Cullinan addressed the Hibernian Society on Saint Patrick's Day in 1829. To read his address CLICK HERE
To read the 1845 St. Patrick's Day Oration by the Rev. William Burke to the Hibernian Society of Savannah, CLICK HERE
On St. Patrick's Day, 1874, members of the Hibernian Society awakened the City of Savannah by firing off an 18 gun salute with Revolutionary War cannons at 6:30 in the morning. We don't know why this fine tradition was apparently discontinued after only one year.
In 1908, by pure coincidence, Savannah's two oldest heritage societies, the St. Andrew's Society and the Hibernian Society, held separate meetings on the same night at the Hussars' Club. Afterwards the Scotsmen and the Irishmen gathered together for libations and toasts.
In 1912 President William Howard Taft addressed the 100th Anniversary Dinner of the Hibernian Society of Savannah. To read the transcript of his remarks CLICK HERE

In 1937 President Franklin D. Roosevelt sent greetings to the Hibernian Society in a radio address from Warm Springs, Georgia. To read a transcript of that broadcast CLICK HERE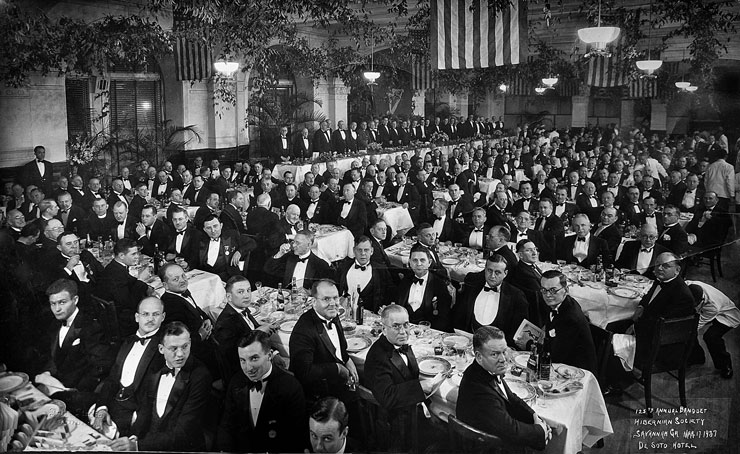 The 125th Anniversary Dinner at the Hotel De Soto - March 17th, 1937
Click on the photo to view an enlarged version.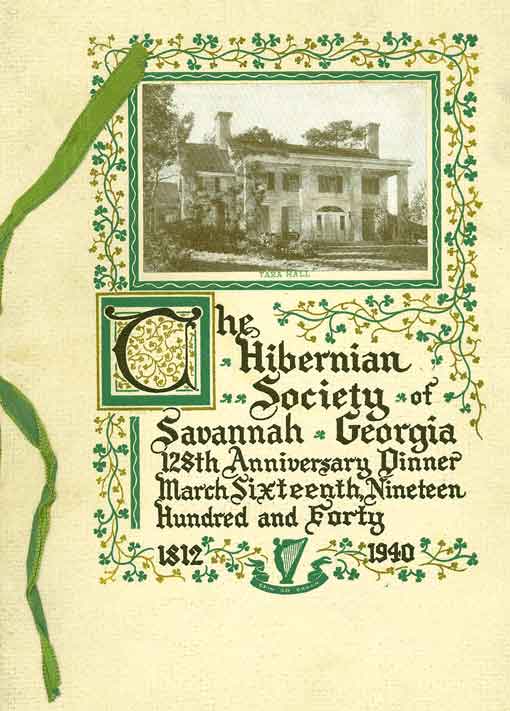 In 1940 the cover of the Anniversary Dinner Program honored Tara Hall, the O'Hara Family home in Gone With the Wind, which had premiered the previous year. To see the letter that Margaret Mitchell sent about the program cover CLICK HERE
In 1962 former President Harry Truman addressed the Society's 150th Anniversary Dinner.
In 1977 Archbishop Fulton J. Sheen was the featured speaker at the Society's Anniversary Dinner.
President Jimmy Carter addressed the Society's Anniversary Dinner in 1978. To read a transcript of his remarks CLICK HERE
In 2008 The St. Andrew's Society and The Hibernian Society held a "Centennial Dinner" to commemorate the 100th anniversary of their coincidental joint gathering in 1908. To read more about this and see photos of the event CLICK HERE

In 2012 Four-Star Admiral William H. McRaven was the keynote speaker at the 200th Anniversary Dinner of The Hibernian Society of Savannah. Admiral McRaven, Commander of the United States Special Operations Command, is credited with organizing and executing Operation Neptune's Star, the Special Ops raid that lead to the demise of Osama Bin Laden on May 2, 2011. To read more about this CLICK HERE
Ireland's Taoiseach (Prime Minister), Enda Kenny, sent video greetings to the Hibernian Society's 200th Anniversary Dinner. To view his message CLICK HERE

To view a short video of the highlights of the 200th Anniversary Dinner CLICK HERE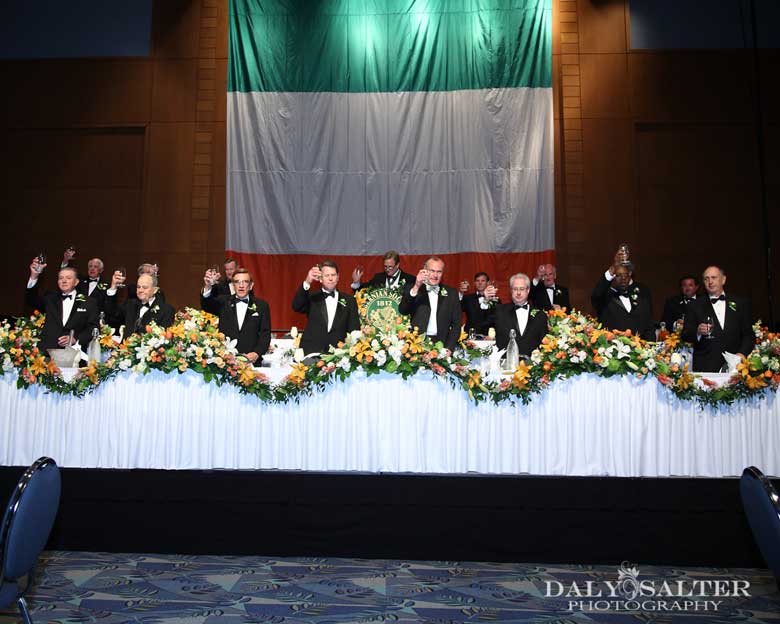 The 200th Anniversary Dinner
March 17, 2012