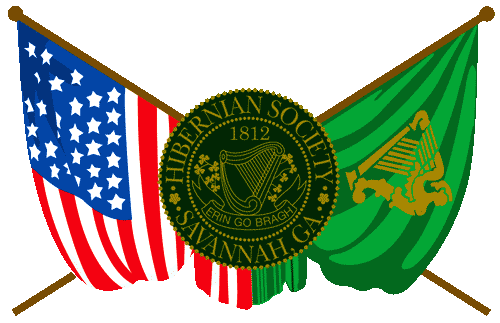 Hibernian Society Officers 2014 - 2015
President - William Ward Shearouse, Jr..

Vice President - John P. Beytagh

Treasurer - Thomas J. Hussey

Secretary - Peter D. Muller

Assistant Secretary - Michael J. Curran, Jr.

Immediate Past President - Paul F. Jurgenson, M.D.
Committee Appointments 2014 - 2015
Board of Stewards:
Patrick C. Rossiter - Chairman
Michael J. Fleming
Michael J. Flynn
Brendan T. Sheehan
Charles V. Loncon

Speakers Committee
Dr. Francis P. Rossiter, Jr. - Chairman
Dr. John E. Jaugstetter
Joseph P. Brennan

Sick Committee
Joseph K. Ebberwein - Chairman
John H. Daniels, Jr. - Vice-Chairman
John Marc Friday
Lawrence G. Whelan

Resolutions Committee
Cletus William Bergen II - Chairman
Jay Blackburn
Edward J. Derst, III
Joseph F. Ebberwein
William J. Foran, Jr.
Joseph M. Gannam
J. Nicholas Harty
Michael F. Hennessy
Tom Mahony, III

Finance and Charity
John P. Beytagh, Sr. - Chairman
Joseph L. Connors, III
Thomas F. Anglin
J. Harry Haslam, Jr.
Michael A. Foran

Historical Committee
Dr. John E. Jaugstetter - Chairman
Joseph P. Counihan, Jr.
Theodore F. Haviland, Jr.
Frank J. Hester

Archivist
Dr. John E. Jaugstetter

Poet Laureate
Edward T. Brennan

Technology Committee
John B. Hohenstein, III - Chairman
Charles M. "Chuck" Courtenay, Jr.

Newsletter and Communications Committee
C. Harvey Ferrelle, III - Chairman
Dr. John W. Jurgensen - Co-Chairman

Parliamentarian
Anthony H. Abbott

Employment Assistance Committee
Michael J. Laird - Chairman
John W. Ritzert

Marshall and Deputies
James J. Collins, III - Chairman
John M. Haviland
J. Nicholas Harty
Wright C. Powers, Jr.

Hibernian Society of Savannah Foundation Inc.
Dr. Francis P. Rossiter, Jr. - Chairman
J. Nicholas Harty
Walter B. Murphy III
William P. McCuen



The music on this page courtesy of the Youghal Pipe Band.



Copyright @ 2009 - 2015 | The Hibernian Society of Savannah
Last updated: February 28, 2015